Horse Transport
Moving equine is a specialist field needing an experienced hand. We offer a professional horse transport service from start to finish at very competitive rates.
Horse transportation can be as stressful for the owner as it can be for the horse or pony itself. We understand this; therefore, you can have absolute peace of mind when using our service as we will work around you and the horse or pony in hand.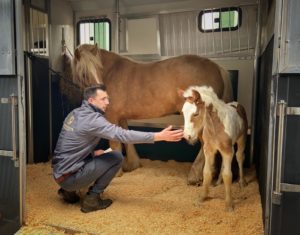 As a company, we pride ourselves on equine hygiene, safety & welfare. We treat horses and ponies in our care although they were our own – no matter the value! Understanding the responsibility and respect needed for these animals is crucial when transporting. We, therefore, hold all the relevant licences, insurances and cover in place to carry out the job safely, professionally and legally.
We can offer private or shared transport. All our drivers & vehicles are certified for long journeys over 12hrs (Type 2). We can cater for up to 31 stables for overnight stays, meaning we can give horses overnight rest en route if needed.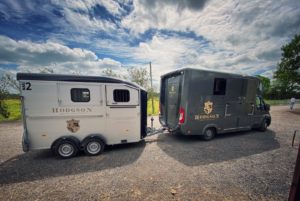 Equine welfare is our utmost priority as well as 5-star customer service. We care for all of our loads with the highest levels of professionalism. We take great pride in our customers' loyalty shown through using our services time & time again.
Strict biosecurity measures are essential to have in place when transporting equine. Our lorries are, therefore, thoroughly disinfected at all times using only DEFRA approved products. Keeping your horse safe is our priority, and we strive to prevent the spread of any disease that can be carried within horses and ponies in transit.